Description
TUFF TOE BOOTS v2 Features:
Non-Marking
Chemical resistant (Great for Hazmat boots)
Heat resistant to 742° F (Perfect for Firefighters Turnout boots)
Waterproof
Award-Winning for Product Innovation
Electrical Non-Conductive
Insulates steel toes in freezing temps
Adheres to any work boot sole, including leather
2-part epoxy polyurethane developed by NASA Engineers
Industrial adhesive blend cures on boot for a durable, long-lasting finish
Repair soles, leather, rubber, seams, welts, and more
100% Made in the USA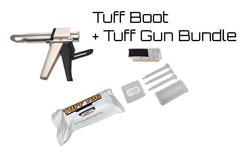 Optional COMBO PACK Upgrade:
For optimal application, upgrade to our COMBO PACK and apply Tuff Toe™ in the same way we do in our shop. Professional Tuff Gun applicator included.
INDEPENDENTLY TESTED FOR INDUSTRIAL TRADES:
NFPA 1971-07, 8.11 Modified Melting Safe to 500°F, with Flash Point 742°F
WATERPROOF: NFPA 1901-07, 7.10.17 Water Penetration Test
ELECTRICAL NON-CONDUCTIVE: NFPA 1971-2007, 8.32 & ASTM F2412
TUFF TOE Boots v2 Built For Extreme Conditions
You work hard – so should your work boots. Protect your steel toe work boots from unnecessary wear and tear with the long-lasting Tuff Toe™ v2 formula. Tuff Toe, the ultimate boot protector, shields your boots from damage when they come in contact with wood, metal, concrete, chemicals, or any other material that shortens the life of your boots.
Tuff Toe is not just an inexpensive insurance policy when investing in a quality pair of boots; it's the best boot toe guard and toe protector for boots available.
Roofers. Welders. Plumbers. Electricians. Concrete Finishers. Flooring Installers. These professionals understand the importance of work boot care. They use Tuff Toe to triple the life of their boots, ensuring they get the most out of their work boot toe coating.
How To Apply TUFF TOE v2 Boots
This is our general Tuff Toe Boot application video that applies to all Tuff Toe Boot products. Learn how to apply the boot toe coating for maximum boot protection.
How to Apply Tuff Toe to a Moccasin Toe Boot
The increasingly popular Moccasin Toe (Moc-Toe) boots offer flexibility and ruggedness. But when they begin to wear, Tuff Toe™ v2, the best toe boot protector, offers a cheap and simple solution for repair and protection.
Have TUFF TOE Applied For You
Don't Want to Apply Tuff Toe Yourself? Find a local TUFF TOE Certified Application Pro and have them custom apply TUFF TOE v2 to your boots. You will also receive the BOOT-LIFE GUARANTEE.  Contact us if you need help locating a T-CAP or look them up here on our Tuff Toe locations page.
GUARANTEED TO LAST: BOOT-LIFE GUARANTEE
Not only do we claim that the Tuff Toe Boots v2 is the Best Boot Toe Guard ever, but we also stand behind that claim with a TUFF TOE BOOT-LIFE GUARANTEE. We will Guarantee TUFF TOE v2 from wearing off, chipping off, cracking, peeling, not adhering, or in any way not work, for the useful life of your boots!
*Professional TCAP application required.

Don't have a T-CAP in your area? Then we will stand behind YOU!  If you watch our online TUFF TOE application video and apply the entire v2 cartridge yourself, then we will stand behind your TUFF TOE v2 application skills and v2 for 90 Days!
Steel toe boots are great, but they wear down. With Tuff Toe™ v2, the ultimate boot protector toe, you can extend their life even after the steel is exposed. Using our specially formulated Tuff Toe™ v2, you can extend the life of your work boots – even after the steel is exposed. Tuff Toe™ – your partner in work boot repair and protection.